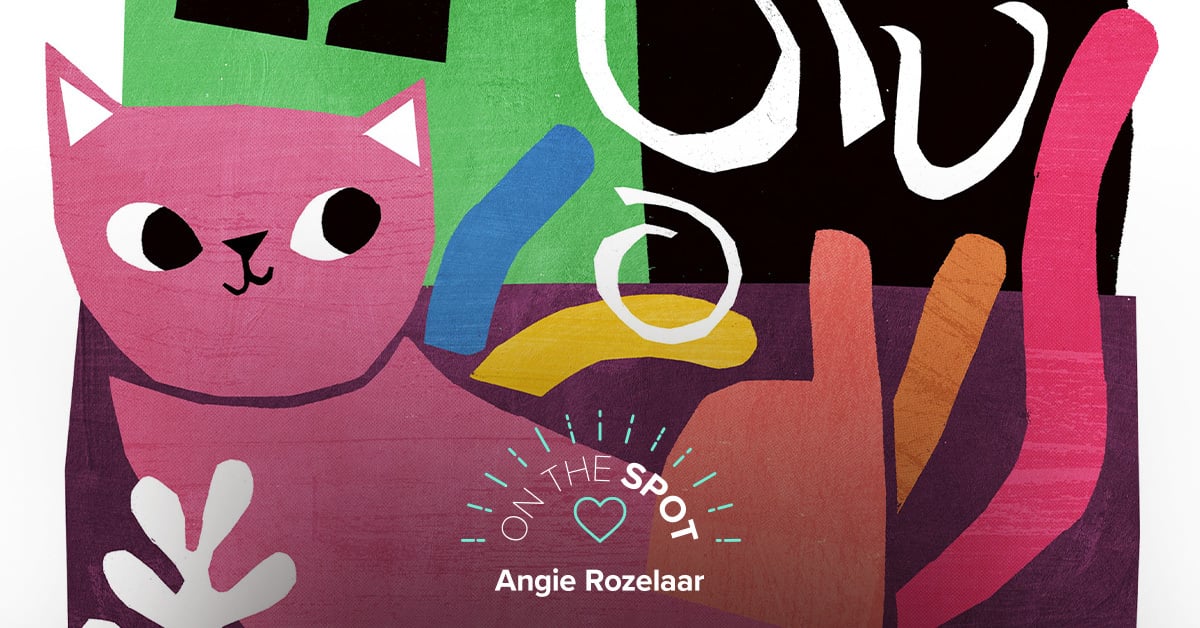 Angie Rozelaar: Exploring the World of Cats and Creativity
If you take a close look at Angie Rozelaar's work, you'll quickly notice her love for cats and puns. As a cat lover myself, I had the opportunity to sit down with Angie and learn more about her journey as an artist, author, and illustrator. We talked about her inspirations, her path to success, and of course, her passion for cats. So, let's dive into Angie's world and discover what makes her tick!
Angie's artistic journey began early on. She has always had a deep love for drawing and painting, which led her to pursue a degree in Art and Design at the prestigious Chelsea Art School in London. While studying, Angie worked backstage at a West End theater to support herself financially. Little did she know, this job would become a stepping stone to her artistic career.
After her children were born, Angie continued to make art as a hobby. However, when her kids started going to school, she decided to pursue her passion full-time. In the early days, before the era of social media, Angie started sharing her work on her art blog. Luckily for her, card companies and publishers discovered her talent and offered her commissions. This marked the beginning of her journey as a freelance illustrator.
With the introduction of Instagram, Angie's cat illustrations started gaining wider recognition. Her cat-themed portfolio expanded into a mini-brand, which eventually led to the launch of her licensing brand, Planet Cat, in 2019. Through collaborations with manufacturers worldwide, Angie's cat art has adorned various products such as mugs, games, jigsaw puzzles, aprons, and umbrellas.
When asked about the most important thing in her studio, Angie immediately mentions her cat, Sushi. It seems that Sushi enjoys keeping her company while she works. Apart from her feline companion, Angie cherishes her Caran d'Ache gouache paint tin and her computer, which are essential tools for her creative process.
The cat illustrations that have become Angie's trademark originated from her participation in the global 100 Day Art Project on Instagram. With four cats at home, she never lacks inspiration. Creating the first 100 cats for the challenge sparked her love for illustrating cats. From there, her cat obsession only grew stronger.
What is it about cats that fascinated Angie so much? She explains that she has always loved being around animals, but cats, in particular, captivate her with their beauty, intelligence, and playfulness. Their sassy attitude never fails to bring a smile to her face. Angie cherishes those moments when her cats curl up in her lap after a long day, offering comfort and companionship. Living in a farmhouse, her four cats have the freedom to come and go as they please, adding an element of adventure to their lives.
One of Angie's notable works is the 'Artsy Cats Board Book.' The idea for this book originated during her participation in the 100 Day Art Project. Drawing on her knowledge of art history, Angie combined different art styles and movements with her feline theme. The book features puns such as Henri Catisse, Jackson Pawlock, and Yves Feline. Collaborating with the publisher Mudpuppy, Angie created fourteen captivating designs for the board book.
When it comes to inspiration, Angie finds it in her cats, of course. Additionally, she enjoys visiting galleries and museums when she travels to new cities. Exposing herself to art from around the world fuels her creativity.
Among the various projects Angie engages in, she finds immense joy in creating work for her Planet Cat portfolio. Coming up with funny ideas to share with her followers on Instagram brings her happiness, knowing that her art can bring smiles to people's faces. She also cherishes working with her publishers, including Nosy Crow, Bloomsbury, and HarperCollins, on children's picture books. The collaborative process is something she truly appreciates, and whenever possible, she finds ways to include a cat in her illustrations.
Aside from her artistic endeavors, Angie finds enjoyment in activities outside of creating art. You might spot her taking a walk in the countryside with her rescue donkey, Quixote. Baking cakes is another pastime she indulges in, and surprisingly, she has recently taken up the drums, a hobby she started learning just last year.
Reflecting on her journey, Angie considers her Artsy Cats board books being sold in museum gift shops worldwide as a significant achievement. However, what brings her the most pride is the sense of community she has cultivated on Instagram. Connecting with others who share her love for art and cats has been incredibly rewarding for Angie.
To wrap it up, Angie Rozelaar's passion for cats shines through in her artwork. Her journey from a hobbyist to a successful artist, author, and illustrator is a testament to her talent and determination. Through social media, Angie has been able to reach a wider audience and establish a strong presence in the cat art world. With an impressive portfolio and numerous collaborations under her belt, Angie continues to bring joy and laughter to cat enthusiasts worldwide.
To keep up with Angie's latest creations, make sure to follow her on Instagram @angierozelaar.