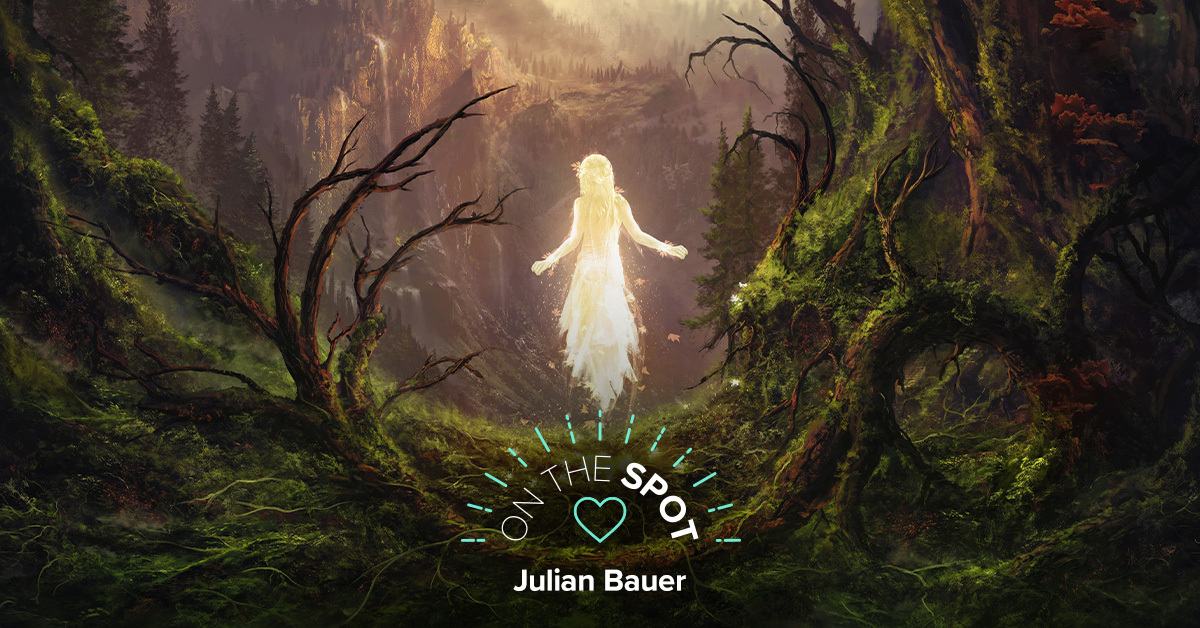 Are you a fan of Bob Ross and his colorful paintwork? If so, you'll be intrigued by the unique and captivating art of Julian Bauer, a German artist who takes inspiration from dungeon synth and mountain biking to create his own distinctive style. In this interview, we delve into Julian's design background, his artistic process, and his passion for all things chicken-related.
Julian's artistic journey began during his design studies between 2010 and 2015 when he taught himself digital painting. He quickly developed a passion for this field and started taking on small commissions in various areas such as logo creations and UI visual designs. As he uploaded his personal paintings to his online portfolio, more opportunities began to arise, including book and music album covers.
During this time, Julian also embarked on a 2D multiplayer video game project with a programmer friend. Although they were unable to complete the development, the experience allowed Julian to gain valuable insights into website building, animation, asset creation, and particle effects. He also continued freelancing as a concept artist and illustrator, gradually shifting his focus from graphic design to paintings. The diverse knowledge he gained in different design fields has proven beneficial, especially when collaborating with interdisciplinary teams.
One of the fascinating aspects of Julian's art is its inspiration from ancient and mystical worlds. To understand his artistic process, Julian explains that he approaches personal projects and commissions differently. Personal works are often influenced by music, with the lyrics sparking ideas for his paintings. On the other hand, commissions come with specific requirements from clients. Depending on the subject, Julian utilizes a range of tools, including 3D programs like 3D Coat and Blender, to create detailed compositions and lighting. He then moves to Photoshop to achieve a painterly feeling and add additional details. In some instances, he even listens to demos from bands while working on album covers to find additional inspiration and get into the creative flow.
The development of Julian's current art style has been influenced by various factors. Early on, he experimented with digital brushes that imitate the brushstrokes of analog paintings. He also drew inspiration from Bob Ross and his TV show, "The Joy of Painting," which helped him learn many basic techniques. Additionally, the brushwork and use of light by old masters such as Rembrandt, Vermeer, Bierstadt, and Wyeth, as well as contemporary artists like Rutkowski, Jabłoński, Ruan Jia, and Boedges, have all had a significant impact on his style.
Julian's art has received numerous memorable responses throughout his career. One standout moment was when his 4th-grade teacher praised his tree painting, igniting a sense of pride and encouragement within him. Additionally, receiving requests for print purchases is the ultimate compliment for Julian, as it shows that someone appreciates his work enough to want it displayed in their home.
When asked about his biggest success so far, Julian points to making a living from his art as his personal achievement. Despite not attending art school, his design background and self-taught painting skills, aided by online tutorials, have propelled him forward. Another milestone in his career was working on his first animation short at E.D.Films in Montreal, where he had the freedom to choose the art style and composition of nature scenes. The positive work environment and treatment of artists at E.D.Films made the experience even more rewarding for Julian.
Apart from art, Julian's passions include music and mountain biking. Music is a major source of inspiration for his paintings, and he also plays the guitar. Mountain biking, particularly in the Black Forest, offers him an opportunity to explore new paths and appreciate the beauty of uncharted territories. It serves as a refreshing break from his computer-based work, and he often takes reference photos along the way to inspire his art.
Looking to the future, Julian hopes to work on more animated movies and game projects professionally. These contracts allow him to fully indulge in his passion and creativity. On a personal level, he desires to maintain good health and eventually settle in a peaceful place with his partner. His vision includes having a garden with chickens, cats, and dogs, providing a serene setting where he can continue creating his art.
In conclusion, Julian Bauer's artistic journey from Bob Ross-inspired colorful paintwork to eerie and ancient worlds is both fascinating and captivating. His talent and unique style have garnered attention and praise, and his success as a self-taught artist is truly remarkable. With his design background and diverse skills, Julian continues to create mesmerizing paintings that transport viewers to his fantastical realms. Whether working on personal projects or collaborating on commissioned works, his dedication and passion shine through. As he looks toward the future, Julian hopes to expand his portfolio with more animated movies and game projects while enjoying a fulfilling personal life surrounded by nature, music, and his beloved pets.